Our business for 100 years: working with Volvic lava stone

A unique stone
For the past 11,000 years the Natural Park of Auvergne Volcanoes has seen the rise of the Nugere crater, from which the Volvic lava is now extracted.
Lava stone contains the power of nature. Born when magma first gushed from the incandescent depths of the earth and was petrified as a result of the wind. Its origin, marked by the triple signature of earth, air and fire, gives it a unique and unusual character: both dense and homogeneous, Volvic lava is impervious and has a foolproof resistance. In volcanic countries it is named the "eternal stone".
Asserted expertise
This natural wealth has been extracted since the 13th century and has proven its worth within the construction sector: there are countless civilian, military and religious buildings made with Volvic lava that have stood strong for hundreds of years.
Although it is considered a "hard" stone, Volvic lava is elaborated in many ways and thus allows its use in different fields of application. Cutting it with chassis blades, wire sawing and diamond discs, plaining, sanding, polishing, drilling …: all these techniques are perfectly mastered by our workshop and allow us to develop customized projects to meet the most specific demands.
The domain of multiple applications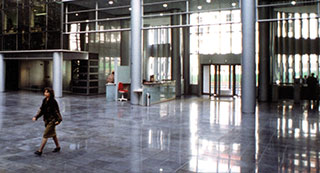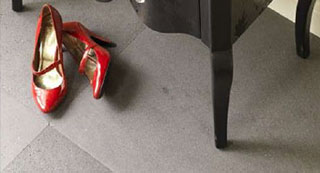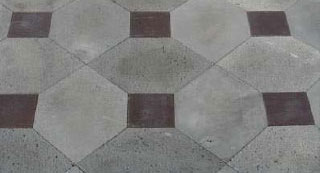 Pavings
The "warm" grey shades of Volvic lava and the inherent strength of this natural stone make it the material of choice for the realization of exceptional paving, both internally and externally.
Tile formats can be tailor made, depending on the quantities and finishes, from the classic format 15 x 15cm up to 120 x 60cm. The thickness may vary depending on the location and the type of use for the tiles.
We offer various surface finishes for this 100% natural solution in order to provide a differentiating touch to your projects: everything from a fine polish right through to a rough and rustic "brush hammer" finish.
The "warm" grey hues of Volvic lava are incomparable to other lava stone and basalt from around the world and accentuate the unmistakable signature of this material.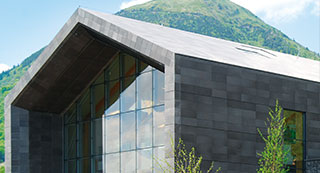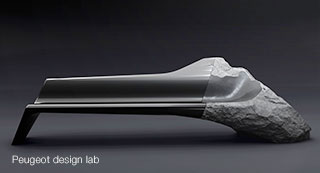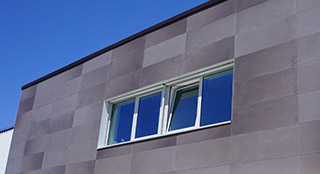 Architecture / Industry
Since Norman times to present day, its properties of size and resistance have made Volvic lava a preferred material in public, private and religious architecture: civil and military buildings, churches and cathedrals, fountains and public benches, memorial or commemorative monuments, artistic and decoration sculptures to name just a few examples.
Many buildings built in the 12th and 13th centuries using lava stone, are still intact and illustrate the durability of this material, unlike some other stones which cannot resist the damage of pollution, for example.
Largely due to its high resistance to acids, Volvic lava is also used in the chemical and metallurgical industries for items such sedimentation tanks, Glover towers, and basins receiving highly concentrated acids. The expertise of our Mallet workshop can deliver stone shaped according to all customer demands, from lava opus to lintels and containers.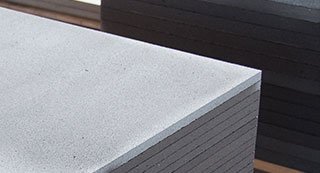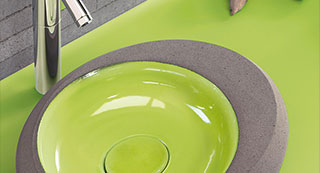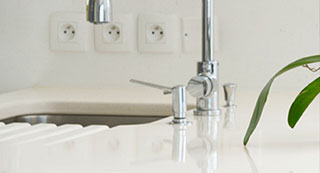 Slabs
It wasn't long before the outstanding characteristics of Volvic lava had seduced enamel specialists, and the first glazing tests were carried out as early as 1820. Orientation tables and road signs are among the first known applications of enameled lava stone, but it is now more widely used in upscale design and interior decoration.
The manual extraction process and the extensive expertise of the quarries allow us to maximize the size of the extracted blocks. We are able to provide the enamellers with large slabs, with dimensions that can sometimes be up to 3 meters long and 1.30m wide, ideal for kitchen and bar counters.
We also provide much thicker blocks for the creation of massive components such as bathroom basins.
Thus, the Volvic lava stone is now used by enamellers spread throughout French territory, including the leading brand- Pyrolave.